Home
Officers
Chapter Programs
Register for the Next Meeting
Presentation Archives
Announcements/Contact
Newsletters
Region III "Regionaire"
Membership (Join Online)
Membership (Download PDF)
CTTC
Research Promotion(Donate Online)
Research Promotion(Download PDF)
Links
Manual of Chapter Operations pdf)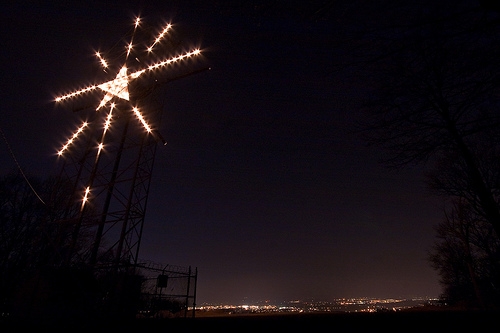 Lehigh Valley Chapter of ASHRAE

ASHRAE is an international organization of 50,000 persons with chapters throughout the world. The Society is organized for the sole purpose of advancing the arts and sciences of heating, ventilation, air-conditioning and refrigeration for the public's benefit through research, standards writing, continuing education and publications. Through its membership, ASHRAE writes standards that set uniform methods of testing and rating equipment and establish accepted practices for the HVAC&R industry worldwide, such as the design of energy efficient buildings.

The Society's research program, currently more than 100 research projects worth nearly $8 million, investigates numerous issues, such as identifying new refrigerants that are environmentally safe. ASHRAE organizes broad-based technical programs for presentation at it's semi-annual meetings and co-sponsors the international Air-Conditioning, Heating, Refrigeration Exposition, the largest HVAC&R trade show in North America.

The Lehigh Valley Chapter covers an area of Pennsylvania from roughly Reading to the west, Quakertown to the south, Phillipsburg, NJ, to the east, and the Poconos to the North.


---
February 13, 2019
Next Event: "Don't Let Your BIM Go Boom- Dealing with the potential liability issues of BIM"
BIM has become a growing industry practice over the past 10 years. However, inconsistencies in approach, application and intended use has made the realization of the theoretical benefits of BIM uneven. The lure of BIM is the allure of fewer field conflicts, fewer RFIs, a clearer understanding of what is being built and no change orders. But if all parties aren't on the same page, there can be some serious project mishaps that can make your BIM plans go BOOM! This program looks at some of the areas where a failure to communicate can clobber you.
presented by Mitchell Swann, PE, ASHRAE Distinguished Lecturer
Mr. Swann has over 30 years of experience in the areas of engineering design, project management and consulting for a wide array of clients in diverse industries in the USA and abroad. Mr. Swann's career has included engineering design of HVAC, Piping and Control systems; Project & Department Management, Commissioning, Forensic Engineering & Expert Witness engagements; Dispute Resolution and Project Execution Consulting. He has worked for clients on commercial, institutional and high-tech\industrial projects. He has worked in A/E, E\A and Design-Build firms and Construction Management and as liaison between the design and construction team.
Mr. Swann has authored several articles on several subjects in project execution and professional practice including the "Standard of Care", Substantial Completion and Project Risk Management. Mr. Swann is active in several Technical Committees within ASHRAE, including TC 1.7-General Business, Management and Legal Education, TC 2.8-Sustainable Design, TC 7.1 – Integrated Design, TC 7.2 HVAC Design-Build and TC 9.11-Clean Spaces.
He served as President of the Engineers Club of Philadelphia from 2012 – 2014 and still sits on the Board of Directors. He is currently a Director on the Board of the Philadelphia Energy Authority where he serves as Treasurer. He is also on the PA State Uniform Construction Code Review and Advisory Council. In addition to ASHRAE, Mitch is a member of the USGBC, The Delaware Valley GBC, ISPE and the American Bar Association's (ABA) Construction Forum. He previously was vice-chair of the ABA's Alternative Dispute Resolution Section Committee on Construction.
He is a graduate of Drexel University in Philadelphia with a BSME with a concentration in Thermal Fluid Sciences (aka "Energy")
5:00 - 5:30 PM Fellowship
5:30 - 6:30 PM Dinner
7:00 - 8:00 PM Presentation
Starlite Diner & Lounge, 233 N Route 100, Allentown, PA 18106
COST: $30 per person cash or check, $31 credit card on site
RSVP to Doug Cowan at dcowan@rdbitzer.com
---